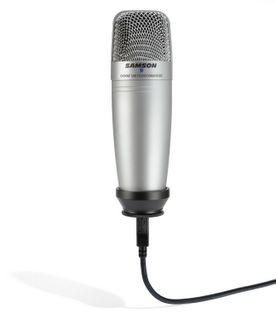 Now this looks like something for serious podcasters - a USB mike. It costs around 200 US dollars.
The US manufacturer Samson claims the C01U USB Studio Condenser Mic is the first affordable studio condenser mic with a USB interface.
Seamless integration was the idea, and it was obtained by creating a studio condenser microphone that can be plugged into any computer with no in/out boxes, no expensive computer pre-amps, just a USB cable. The C01U condenser microphone is based on the C01. It features a 19mm internal shock mounted diaphragm with a cardioid pick up pattern ensuring studio quality recordings. The C01U works perfectly on any computer, Mac or PC, and with any DAW software program. It immediately solves a huge problem for users of many laptops, many of which have no other input method for audio devices. The mic also opens up possibilities for anyone who records audio - from Podcasters, radio reporters, students, and business people adding audio files to websites and multimedia presentations.